Norsat ATOMBKU025
Ku-Band 25W BUC
Power Output (P1dB): 25W
Conversion Gain: 60 dB
Size: 6.5 x 3.2 x 6.1 inches
Weight: 5.0 LBS

Security policy

Delivery policy

Return policy
NORSAT ATOM SERIES BUCS
Compared to equivalent products, ATOM series BUCs are:
• Up to 68% smaller and lighter
• Up to 60% more power efficient
• More flexible with RF and configuration options
The Norsat ATOM series of block upconverters (BUC) are among the smallest, lightest, and most energy efficient transmitters available. The high efficiency of ATOM reduces power consumption significantly, delivering considerable operational cost savings over the lifetime of the device.
OPTIONS
The following items are standard: White paint, N-Type input connector, WR-75 waveguide output, Fan cooling, DC Power.
Available options include: Baseplate Cooling, Surge + Protect Filter, SMA Input Connector, WR-62 Waveguide Output.
Accessories: Power supply, Bracket, Waveguides, Cables, Adaptors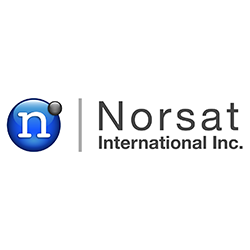 Transmit Frequency

13.75 - 14.50 GHz

Transmit Frequency

14.00 - 14.50 GHz

Input Frequency

950 - 1450 MHz

Input Frequency

950 - 1700 MHz

LO Frequency

12.80 GHz

LO Frequency

13.05 GHz

Noise Temperature

15 dB

Power Output

25W

Gain Variation

2 dB max p-p over any 40 MHz

Gain Variation

6 dB max p-p over operating band

Gain Variation

3 dB max p-p over temperature

Phase Noise

-72 dBc/Hz @ 1kHz

Phase Noise

-92 dBc/Hz @ 100kHz

Phase Noise

-82 dBc/Hz @ 10kHz

Phase Noise

-102 dBc/Hz @ 1MHz

Fwd Monitor (15 dB Range) @ CF

±1.0 dB

Input VSWR

2.0:1

Output VSWR

2.0:1

Spurious @ rated power

-55 dBc

AM/PM Conversion

2.5°/dB at 2dB below rated power

2nd Harmonic

-45 dBc@ 3dB below rated power

Operating Temperature

(with fans): -40 to +60°C (-40° to +140°F)

Storage Temperature

-54 to +80°C (-65° to + 176°F)

Enclosed Accessories

Screws, gasket, M&C mating connector, power mating connector

Interfaces

RF Input Connector: N type

Interfaces

RF Output Connector: WR-75 (WR-62 above 15 GHz)

Monitor & Control

M&C Interface: RS-232 & RS-485

Monitor & Control

Mute Control: Fully configurable (mute enable: high or low, mute default: enabled or disabled); Low: 0.0-0.8V; High: 3.0-5.0V

Monitor & Control

M&C Connector: MIL-26482 Series 1 Receptacle, Shell Size 12, 10 Pins

Monitor & Control

Thermal Shutdown Temperature: 90°C (Accuracy ± 3°C)

Input Voltage

20 - 56 VDC

Power Consumption with fans

115W @ Quiescent (no signal input)

Power Consumption with fans

126W @ 3dB backoff from P1dB

Power Consumption with fans

20W muted

Power Consumption with fans

165W @ Psat (Typical)

Power Connector

MIL-26482 Series 1 receptacle Shell size 12, 4 pins

Dimensions

6.5 x 3.2 x 6.1 inches

Weight

2.3 kg (5.0 lbs)