Norsat OMT-KuE
Ku-Band Extended OMT
(discontinued, please consider OMT-KuE-1)

Security policy

Delivery policy

Return policy
This is a highly integrated three port assembly, combining an OMT with a transmit reject filter and elbow. It is small, lightweight, easy to install and is aesthetically appealing.
The OMT is designed for linear orthogonal polarization. The combined OMT and filter assembly provides very high isolation and is suitable for a large variety of applications in VSAT ground terminals.
The unit has a WC 75 flange at the feedhorn port, a WR 75 with a grooved surface at the transmitter port and a WR 75 flange with a flat surface at the LNB receiver port. An adaptor can be provided to allow the transmitter port to match with a transmitter with a grooved surface.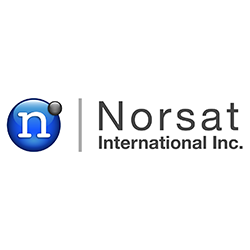 Transmitter Port Frequency Range

13.75 to 14.50 GHz

Transmitter Port VSWR Maximum

1.3:1

LNB Port Frequency Range

10.70 to 12.75 GHz

LNB Port VSWR Maximum

1.25:1

Transmitter/LNB Cross Polarization Min.

35 dB

Transmitter to LNB Isolation at Tx freq. min.

80 dB

Transmit Port Input Power max.

50 dBm

Transmitter to feed Insertion Loss max.

0.25 dB

Feed to LNB Insertion Loss max.

0.35 dB

Feedhorn Port Waveguide

WC75 with threaded holes

Transmitter Port Waveguide

WR75 with through holes

LNB Port Waveguide

WR75 with through holes

Dimensions

76 (L) x 45 (W) x 172 (H) mm (2.9 x 1.8 x 6.8 inches)

Weight

250 g (8.8 oz)