Skyware 74cm Rx/Tx Antenna

Security policy

Delivery policy

Return policy
Type 743: 74cm Rx/Tx Ku-Band Antenna
Skyware Global 74cm Rx/Tx Ku-Band Antenna is a rugged, commercial quality product suitable for the most demanding applications.
• The stamped steel reflector is designed for strength and accuracy needed for Ku-Band operation.
• The precision Az/EI mount is made of galvanized steel for excellent corrosion resistance. This mount includes special features to increase pointing accuracy with low backlash and lockdown error.
• This Az/EI allows the antenna to be installed on standard (60mm) [2 3/8"] OD installation mounts.
• All hardware is plated to 720 hour salt spray standards tested in accordance with ASTM B-117. • Designed for use with the Skyware Global line of Ku-band Feed assemblies.
• Tx Cross-Polarization Isolation of 30dB or better for Linear Application.
• Excellent Tx Port to Port Isolation of 80dB or better.
• Meets or exceeds regulatory agency requirements.
• System designed for typical Ku-band RF Electronics.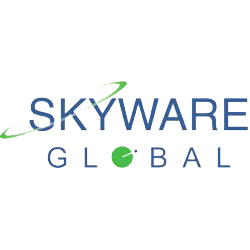 Operating Frequency

TX: 13.75-14.5 Ghz; RX: 10.7Ghz-12.75 Ghz

Type

Receive/Transmit

Effective Aperture

0.74m Elliptical

Polarization

Linear, Orthogonal

3 dB Beamwidth

RX:1.7° @ 12.0 GHz; TX: 1.4° @ 14.3 GHz

Antenna Noise Temperature

50 K @ 62° EL

V S W R

1.3:1

Isolation Port to Port

RX: 30dB; TX: 80dB

Feed Interface

RX: WR75; TX: WR75

Reflector Material

Steel

Antenna Optics

One-Piece Offset Feed Prime Focus

Elevation Adjustment Range

5˚ - 90˚ Continuous Fine Adjustment

Azimuth Adjustment Range

360˚ Continuous ± 10˚ Fine Adjustment

Mast Pipe Interface

2.5" SCH 40 Pipe (2 3/8" OD) (60mm) Diameter

Wind Loading

Survival: 125 mph (201 km/h)

Wind Loading

Operational: 80 km/h (50 mph)

Working Temperature

-40°C to +60°C

Atmosphere

Salt, Pollutants and Contaminants as Encountered in Coastal and Industrial Areas

Solar Radiation

360 BTU/h/ft2